Jan Whitaker's department store books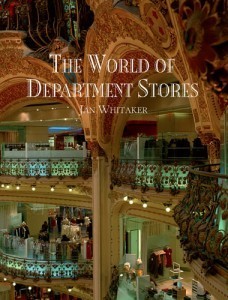 The World of Department Stores (published by The Vendome Press)

Where, apart from the world's great department stores of Europe, America, and Japan, was it possible for shoppers to spend the day in an extraordinarily opulent setting, drifting from shoes to cosmetics, with a stop for a light lunch on the top floor and visit, perhaps, to the bookstore, florist, or hairdresser? In The WORLD OF DEPARTMENT STORES Jan recreates the ultimate shopping experience, bringing to life all the services and excitement that grand shopping emporia from Harrod's to Marshall Field's to Eaton's or Galeries Lafayette have offered to millions for more than a century.
THE WORLD OF DEPARTMENT STORES goes beyond the fabulous window displays, eye-catching shopping bags, and in-store extravaganzas to reveal and celebrate the department store in unprecedented richness and detail. It is a large-format, lavishly illustrated book, presenting photographs and ephemera from stores all over the world. With many of the illustrations filling the pages in full color, it is a feast for the eyes.
As of May, 2020 the book is out of print and all the remaining stock has been sold.
Praise for Jan's book:
"Since my visits as a child to La Opera Department Store in Santo Domingo, I have believed that the best department stores are merchants not of clothing or shoes or cosmetics but of dreams. Whitaker's book is a remarkable around-the-world look at these dream factories. It is an invaluable resource to anyone interested in the business of retailing and to shoppers everywhere." — Oscar de la Renta
"The World of Department Stores is essential reading for anyone who wants to understand the foundations of the urban experience in the West and the department store as the ultimate expression of the needs of the rising middle class and its tastes." ­— Leonard Lauder, Chairman Emeritus, The Estée Lauder Companies Inc.
"I have nothing but good memories about the many department stores that played an important part in my business, [and] I warmly welcome the publication of this wonderful and unique book on department stores throughout the world." — Hubert de Givenchy
"In photos and art, this visual feast details the extraordinary history of the world's 'great retail palaces' from the past century. with authoritative and informative text." -- The Sacramento Bee
"...Whitaker waxes elegiac in a distinguished bit of architectural history from when shopping was an art and department stores incubators of artists' as well as shoppers' dreams." -- Best Architecture Books of 2011, ArchNewsNow.com
"This gorgeously produced book serves as a kind of magic carpet into the past glories of the department store, but also into the world of possibilities they encompassed." -- The Washington Times
Table of Contents
Introduction -- Wonders of the World
Chapter 1 -- A World of Department Stores
Chapter 2 -- The Endless Shopping Spree
Chapter 3 -- Building to Impress
Chapter 4 -- Getting Attention
Chapter 5 -- Window Gazing
Chapter 6 -- Merchandising Spectacles
Chapter 7 -- Services and Circuses
Postscript
Notes
Selected Bibliography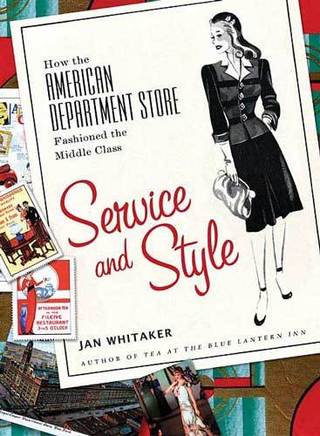 Service and Style (St. Martin's Press)

NOTICE: To order a copy of SERVICE AND STYLE direct from the author via postpaid priority mail, please send $15 via Paypal.com to janwhitaker@verizon.net -- indicate in the message area where to send the book and any inscription instructions. Available only to addresses in the U.S.

SERVICE AND STYLE is a story of America told through the department store – as reflected in its windows, fashion shows, and bargain tables.
Department stores were stewards of taste, circus impresarios, tourist sites, civic centers, women's clubs, urban landmarks, and places where customers could spend the day and buy anything from an ironing board to a Dior original – or nothing at all.
The big stores were much more than mere businesses. They were local institutions where shoppers listened to concerts, saw fashion shows and art exhibits, learned golf or bridge, paid electric bills, and planned vacations -- while their children played in the store's nursery under the watchful eye of a uniformed nursemaid.
From Boston to San Diego and Miami to Seattle, department stores symbolized a city's spirit, wealth, and modernity. Situated at busy intersections, they occupied the largest and finest downtown buildings, and their massive corner clocks became popular meeting places. At the epicenter of retailing, their locations were the high point from which downtown property taxes were calculated. Spanning the late 19th century well into the 20th, their peak development mirrors the growth of cities and of industrial America when both were robust and flourishing.
SERVICE AND STYLE recreates the days of downtown department stores in their prime, from the 1890s through the 1960s. It explores in detail the wide range of merchandise they sold, particularly style goods such as clothing and home furnishings. It examines how they displayed, promoted, and sometimes produced goods. It reveals how the stores grew, why they declined, and how they responded to and shaped the society around them.
Praise for SERVICE AND STYLE:
"Invaluable for retailers, business professionals, and historians." Named one of the best business books of 2006 by Library Journal
"lively pop history ... richly detailed" Publishers Weekly
"... Jan Whitaker's exhaustive book couldn't be more timely." St. Louis Post Dispatch
"... a remarkable book that examines in detail the American downtown department store and how it helped shape the culture of our country." Southern Maryland Newspapers
St. Martin's Press, 2006. 352 pages, illustrated throughout with 8 pages in color.
Topics include: bargain basements, college boards, wedding presents, Paris fashions, racial discrimination, holiday parades, controversial merchandise, women's careers, shoplifting, lingerie shows for men, stylists, escalators, air conditioning, pneumatic tubes, Christmas windows, children's menus, concerts, fashion shows, anniversary sales, dry goods, toys, accessories, notions, handkerchiefs, tea rooms, unions, interior displays, modern design forums, cosmetics, and much, much more about stores from Fifth Avenue to Main Street America.
Table of Contents

Introduction

Chapter 1. Behemoth to Dinosaur: Upsetting the Apple Cart – The Youthful Behemoth – Feeding the Hungry Beast – Becoming a Presence, 1900-1930 – Lean Years, 1930s – Prosperity Returns, 1940s – Slippage, 1950s and 1960s

Chapter 2. Lower, Upper, Middle: Bargains and Bluster – Carriage Trade – The New Consumer – Calibrating the Middle Position – Down in the Cellar – Out in the Cold – The Men that Got Away

Chapter 3. Women's Wear: Silks and Ribbons – Suits and Shirtwaists – Loving Paris in the Springtime and the Fall – Fashion Perplexities – Creative Merchandising – American-Style: Sportswear, California, and the Movies

Chapter 4. Bricks and Mortar: At the Center of the Universe – "Palaces" – Inside the Store – How They Grew – When Cash Flew Through the Air – Going Up? – Fire Losses ... and Gains? – Shedding Light on the Merchandise – Fresh, Cool Air – Relentlessly Modern

Chapter 5. Window Shopping: From Blank ... to Bulging – Displaying Class – Special Dispensations for Christmas – Windows Get Art – Women Wanted, Wax Only – Showrooms or Stockrooms?

Chapter 6. Razzle Dazzle: Good Vibes in the Air and on the Airwaves – Big-Time Advertising – Building a Fashion Reputation – Teaching Style – Marketplace or Museum? – Depression Days of Bread and Circuses – Busy, Busy, Busy – Community Relations

Chapter 7. Floorwalkers, Fashionists, and Founders: Finishing School for Salesclerks – Male Strongholds – The Paper Bag Test – "Lady Buyers" – Shopping, Writing, Coordinating – Fashion's Queens – Labor Struggles – "Tops, Tops, Tops"

Chapter 8. The Goods: Expansion and Contraction -- "Where Can I Find ...?" – Little Things Mean a Lot: Notions and Accessories – "The Zone of Sensuous Odors" – Food and Drink – Disorder in the Bookcase – Store Brands vs. National Brands

Chapter 9. At Your Service: From Rolling Chairs to Shuttle Buses – Lunch and Tea – Banking Where You Buy – The Customer, Unfortunately, Is Always Right – We Deliver – Self-Service – Cutting Back

Chapter 10. Children's Wonderland: Baby and Child Experts – The Playroom in the Sky – From Seasonal Trinkets to Year-round Essentials – Christmas Fantasylands – Joy in the Streets – Juvenile Fashion – Cultivating the Young Consumer

Chapter 11. Fashioning the Teen Market: Youth Rises – The College Girl Rules – The Booming Teen Market – Clubs, Classes, and Contests – Almost Everybody Wants to Be Young – Clinging to Youth

Chapter 12. Everything for the Home: Mundane Wares – Epicenter of the Style Quake – Morris Chairs for the Masses – Model Rooms, Model Houses – Gloss and Glitter

Epilogue