More stores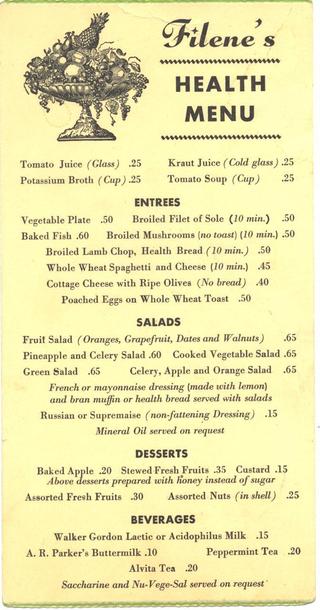 Filene's health menu is not a typical department store menu, but it shows how far stores would go to cater to their customers' dietary preferences. Most menus were geared to more commonplace selections, with the occasional indulgent dessert thrown in of course. Each store tried to create a few signature dishes that customers would come back for time and time again.
Some favorites were:
Deviled crab (Woodward & Lothrop)
Corned beef hash (Marshall Field)
French onion soup (Famous-Barr)
Chicken velvet soup (L. S. Ayres)
Crab Imperial (Hutzler's)
Chicken pie (Halle's)
Wilshire Tower "Five" sandwich (Bullocks Wilshire)
Muffins (Higbee's)
Frango Dessert (Frederick & Nelson)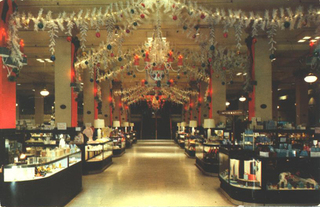 "Woodie's" opened in 1880 as a small store with only 35 employees, but experienced a great growth spurt, annexing four adjacent buildings, by 1900. By the 1930s it was considered the largest department store south of Philadelphia.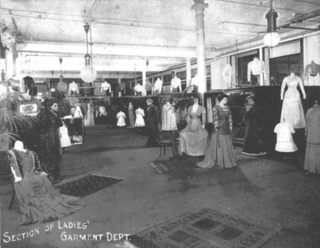 Department stores had not quite perfected the art of the self-service display when this photograph was taken around 1908. By later standards the floor looks bare and the merchandise looks sparse. In this early era, customers were served by clerks who laboriously removed clothing from locked cases.

After World War I, the stores realized that attractive and accessible displays helped sell merchandise. The second World War, with its scarcity of workers, impelled stores to create more self-service areas and to encourage customers to use clerks only for ringing up sales.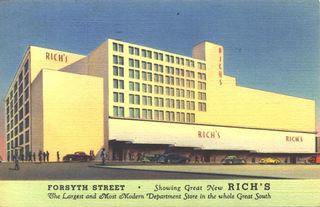 Rich's in Atlanta did not become a sizable store until World War II, but soon it was one of the leading stores of the South (along with Miller & Rhoads in Richmond, Virginia). The store hosted women's clubs and schoolteachers, giving them the "queen for a day" treatment with corsages and luncheons. Every child born in a Georgia hospital received a birthday card from the store, and schoolchildren were given special tours. It was also known for its virtually unlimited returns policy. After picketing led by Dr. Martin Luther King, the store integrated its Magnolia Room in 1961. Like G. Fox in Hartford and F. & R. Lazarus in Columbus, Ohio, Rich's was known for taking a large role in civic affairs.